Featured Sponsor: The Friends of Reading Hospital...they MAKE READING LOOK GOOD!
In 2016, the Friends of Reading Hospital generously donated a brand-new food service van to help support our program which, in 2016 alone, served over 38,000 meals and 16,000 snacks to Reading youth. In addition to the van, the Friends also gifted us with a Fresh Fruit grant, which allows us to give a fresh piece of fruit to every child, EVERY DAY, who participates in our program. We are grateful for the support of the Friends of Reading Hospital, and groups like them, who help us to MAKE READING LOOK GOOD!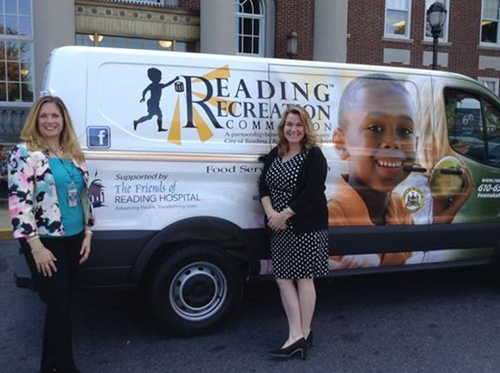 The Reading Recreation Commission - 2017 Pennsylvania Agency of the Year
Help us to MAKE READING LOOK GOOD too! If you are interested in donating to us to support one of our award-winning programs, please visit our DONATE NOW page to learn about how you can help or contact Daphne Klahr, Executive Director, at 610.655.6058 for more information.

SPONSORSHIP OPPORTUNITIES
Raise awareness in the community about your business or organization while supporting Reading Recreation Commission. We have sponsorship opportunities for every budget.
Examples include:
Afterschool Program - $25 - $20,000
Summer Playground - $25 - $18,000
Easter Egg Hunt - $50 - $2,000
Youth Basketball Program- $50 - $5,000
Youth Basketball Team Sponsorship - $500-$5000
COR Tennis Program - $50 - $25,000
Volleyball Teams - $250 - $2,500
Special Events – any amount
Sponsorship benefits may include:
Company name on t-shirts, program flyers and marketing materials
Company banners at programs and events
Company name and link on our website
Company name in our annual report
Thank you to our program sponsors!
Diamond Sponsors - Gift of $10,000.00 and above
Platinum Sponsors - Gift of $5,000.00 and above
Berks County Community Action Program
Mr. and Mrs. James Connors
Law Foundation of Berks County
Mrs. Rosemary Bestwick
Connors Investor Services, Inc.

Gold Sponsors - Gift of $2,500.00 and above
GMI First
Performance Toyota
Reading Eagle
United States Tennis Association
USTA Middle States

Silver Sponsors - Gift of $1,000.00 and above
Advanced Disposal
Angel and Scott Helm
Barbara and David Thun
Berks Arts Council
Dave Zerbe Studio of Photography
Dodson Dietrich
Janet and Brian Covely
Neil Rush
Wells Fargo
The Benevity Community Impact Fund

Bronze Sponsors - Gift of $500.00 and above
Andrea Funk
Anne and Richard Schreck
The Berks Packing Company, Inc.
Bob Sebelist
Brentwood Industries
Cambridge-Lee Industries LLC
Chrissy and Todd Auman
Christine and Robert Keeler
Connors Investor Services, Inc.
DoubleTree by Hilton - Reading, PA
Greater Reading Chamber of Commerce & Industry
Hartman, Valeriano, Magovern & Lutz, P.C.
McCarthy Engineering
Michael Flanagan
Mike and Joe's Barber Salon
Pro Max Fence Systems
Sweet Street Desserts
The Drawing Board
Sherwin Williams
The Honorable Thomas McMahon
Tompkins Vist Bank
Uhrig's Professional Painting & Paperhanging
USTA Eastern Penn District

Friends of the RRC - Gift of $200.00 and above | Program Sponsors | Volunteers
Albright College
Altria Company Employee Community Fund
Alvernia University
ATV Bakery, Inc.
Auman Funeral Home, 247 Penn St. Reading, PA
Autohaus Schlosser
Baseballtown Charities
Bell Tower Salon & Spa
Bellairs Real Estate
Berks County Community Service
Berks County Parks and Recreation Department
Berks County Tennis Association
Berks County Tennis Club
Brennan & Associates P.C.
Buckingham Strategic Wealth
Clover Farms Dairy
Comfort Keepers
Council on Chemical Abuse
D&D Screenprinting
Dans at Green Hills
Dautrich & Dautrich Law Offices, P.C.
Davis Tree Service, LLC
DeCarlo's Drinks and Food Downtown
Enersys
Exeter Township Parks and Recreation
Financial Planning Advisors
Fox Rothschild LLP
Friendlys
Fromm Electric
Fulton Bank
Gaming & Leisure Properties, Inc
Giant
Godiva Chocolatiers
Grande Construction
Grove Dental Group
GTS-Wellco
Herbein + Company, Inc.
Hillcrest Racquet Club
JS Medspa
Justin Bortz Jewelers
Kautter & Kelley Architects
Liberty Environmental, Inc.
Linton & Distasio P.C.
Little Caesars - Reading, PA
Muhlenberg Township
Pagoda Federal Credit Union
Pepperidge Farm
R.M. Palmer & Co.
RR Games
Reading Beautification Inc.
Reading Fightin Phils
Rita's Italian Ice
Sam's Club
Texas Roadhouse
Tom Sturgis Pretzels
Walmart
Wawa
The Yocum Institute for Arts Education