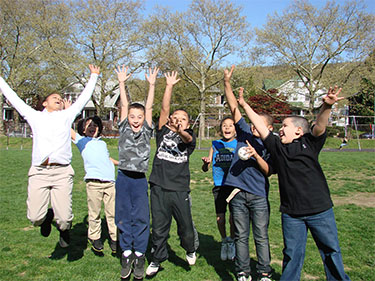 2020 Reading Recreation Commission Evening Playground Program | July 6th - July 31st | 4:00 p.m. - 7:00 p.m. | $15.00 per/child
The Reading Recreation Commission is a national and state award-winning agency!
Equal Opportunity Care Provider
To give our dedicated staff a well-deserved break, all RRC programs and meal service will be closed on July 3rd.
***We're doing things a little differently this summer! Evening playground offered in the month of July. Dinner and snack included.
***Dear Parents and Guardians:
As we slowly get back to normal following the measures taken to address the threat from COVID-19, we believe it is important for you to understand and acknowledge the following. An inherent risk of exposure to COVID-19 exists in any public place where people are present. COVID-19 is an extremely contagious disease that can lead to severe illness and death. According to the Centers for Disease Control and Prevention, senior citizens and individuals with underlying medical conditions are especially vulnerable. By having your child participate in the activities of the Reading Recreation Commission, you and your child are hereby acknowledging and assuming all risks related to exposure to COIVD-19, including the risk that your child will become a carrier of COVID-19 and expose others as a result.
Things that you need to know:
We will offer evening playground, 4:00 p.m. - 7:00 p.m. | July 6th - July 31st
Each site will be limited to 30 kids per day/per sites
Children will be kept in groups of 10 for most activities and up to 25 kids max for any group game
Children will receive their own pencil box with their own arts and crafts supplies
Children are encouraged but not required to wear masks. Staff ARE required to wear masks at all times.
Temperatures will be taken daily for all children and staff. Anyone with a temeprature of 100.4 or higher WILL NOT BE PERMITTED to stay at the playground.

Please keep your child home if they have been exposed to anyone who is in quarantine for COVID-19 or who has been confirmed as having COVID-19.

Registrations will begin at 1:00 p.m. on Monday, June 22nd and will be accepted daily from 1:00 p.m. - 4:00 p.m. via the following methods

In person at 3rd and Spruce Recreation Center from 1:00 p.m. - 4:00 p.m., Monday - Friday beginning on June 22nd
By email to Sarah.hoffman@readingpa.gov (must pay by credit card over the phone)
By fax 610-655-6130 (must pay by credit card over the phone)
ACTIVITIES
Daily Arts and Crafts
Tennis
Games
Dancing
Learning enrichment activities with certified teachers
---
EVENING PLAYGROUND | Monday & Wednesday | 4:00 p.m. - 7:00 p.m.
Thank you to everyone who made Camp Covid a huge success including our friends at the Reading Public Library, Goggleworks, Northeast Springboard Coalition, Reading Area Water Authority, Teachers in the Parks, and the City of Reading. We couldn't have done it without you!
We look forward to seeing you next summer!
---
For more information, please contact Heather Boyer at 610.655.6203 or email heather.boyer@readingpa.gov